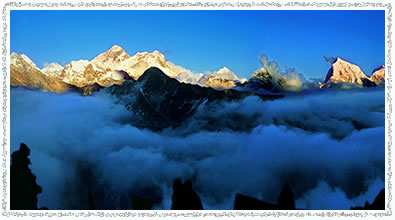 Nepal is considered as a trekkers' paradise. One can have experience of trekking on the beaten trails to isolated outposts of the Himalayan regions. This region consists of twenty two of the world's thirty one highest snow capped mountains and covers one third (35%) of the land area of the country. The highest peak in the world like Mt. Everest (8848m) and many other eight thousand high mountains are situated in this region of Nepal. Some of the Nepal's most beautiful animals like Snow Leopard, Danphe (Impejanus Lophophorus) the national bird of Nepal, the Musk deer and plant life also can be seen here.

Trekking can be as easy or as difficult as you want it to be. The range of treks varies from short gentle hikes through terraced foothills to lengthy expeditions to Mt. Everest's summit. A well organized trekking may provide a special opportunity to walk through Rhododendrons blooming forest or explore lively culture in Nepal. Similarly, you may stumble across the number of interesting events, nature and lifestyle during your trekking period.

Trekking in Nepal will take you through a country that has captured the imagination of mountaineers and explorers for more than 100 years. The beauty and attraction of the Nepal Himalaya emanates not only from the mountains themselves, but also from their surroundings. Nepal is a country of friendly people, picturesque village and a great variety of cultures and traditions.

Trekking through this diverse and archaic panorama offers untold challenges for everyone, from the hard-core hiker to the contemplative naturalist. No matter, you can be a spiritual seeker just for 3 days, or of a full 3 weeks. Trekking in Nepal is fun, rewarding and revealing beyond all surmise.

In the interior of the country follows age-old foot trails which meander through the panoramic riverbank, terraced field and the forested ridges connects picturesque hamlets and mountain villages. Whatever your level of fitness or experience is, you'll find an adventure of life time that is waiting for you in Nepal.
Trek Grades:
Nepal, being a mountainous country, is more appropriate to think in terms of hour(s) spent walking, rather than the miles covered; this is what we use in our grading system. A typical day's walk lasts from five to seven hours and involves a number of ascents and descents.
Grade: Easy
Easy Grade involves trekking to altitudes around 3500m or less; it is relatively easy walking around 5 hrs/ 15 km per day, with the occasional longer walk. These treks can be enjoyed by anyone who lives a reasonably active life.
Grade: Moderate Easy
Moderate Easy Grade involves some longer walks to altitudes around 4000m or less; walking around 6 hrs/ 20 km a day. Some previous hill-walking experience is desirable. Moderate Easy may be described as mild to moderate.
Grade: Moderate
Moderate Grade involves moderate trekking to altitudes of 2000m to 4000m for up to 6hrs/ 25 km per day, sometimes including excursions or pass crossing up to 5000m.
Grade: Moderate Hard
Moderate Hard Grade involves strenuous trekking to altitudes predominantly above 3500m with excursions and pass crossing of between 5000m and 6000m.
Grade: Hard
Hard Grade requires a high level of fitness and experience. There will be ice axes, crampons, and in some cases, ropes used. Climbs however are non-technical. The altitude would be predominantly above 4000m with quite a few nights above 5000m. Some climbing experience and elementary knowledge of the use of crampons and ice axe are essential.
Choosing your Trek
There are two main styles of treks common in Nepal - teahouse treks and fully supported camping treks.

Teahouse Treks
Teahouse Treks are possible on popular routes including Annapurna Circuit, Langtang and Everest. These involve meals and overnight stays in modest accommodation at teahouses and lodges along the route. You are accompanied by a guide who leads the trek and porters who carry luggage and equipment.
Fully Supported Camping Treks
Allow you to venture into places untouched by mass tourism and to set your own pace. All food and camping equipment is taken with us, along with guides, cooks and porters to take care of all the logistical details, set up camp and prepare delicious meals.


Equipment List:
For Low and Moderate Altitude Trekking
Rucksack
Sleeping bag
Water bottle
Torchlight (plus spare bulb and batteries)
Map
Multi-purpose knife
Survival blanket
Lighter or matches/candles
Toilet paper
Sewing kit
Medical and first-aid kit
Waterproof wallet
Sunscreen
Walking stick
Lip guard
Day bag

Sunhat
Sunglasses
Hiking shirts and pants
Jumper or pile jacket
Polar jacket or sweater
Raincoat (in rainy season)
Waterproof jacket
T-shirts
Long-sleeved shirts
Underwears
Polypropylene/woolen socks
Trekking shoes/boots
Camp shoes
Slippers
Towel
For High Altitude Trekking (Above 4000m)
Light cotton socks for under wool socks
Woolen socks to wear with boots
Mountain trekking boots
Insulated pants
Nylon wind jacket

Nylon wind pant
Thermal wears
Woolen hat
Gloves
Snow gaiters
Peak Climbing Equipment
Climbing boots
Harness
Ropes
Crampons
Ice axe
Tapes/slings
Karabiners
Ice screws
Snow bars
Deadmen
Rock pegs
Crash hat
Rucksack
Day bag
Kit bag
Ascenders
Descenders
T-shirts

Long-sleeved cotton/woolen shirts
Thermal wears
Long cotton hiking shorts
Warm climbing trousers
Lightweight fleece
Fleece/wool for climbing
Down high altitude sleeping bag
Sleeping pad (karri mat) or thermo rest
Light cotton athletic socks and wool climbing socks
Lightweight thermal/insulated ski gloves
Head torch (plus spare bulb and batteries)
Waterproof climbing jacket
Down jacket/trousers/vest
Climbing sunglasses
Sunscreen
Sun hat
Snow gaiters
Lip guard