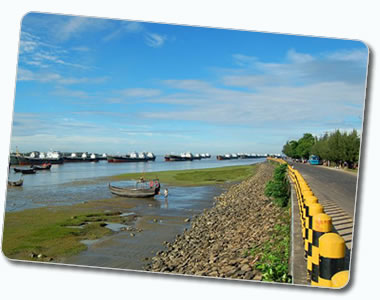 Bangladesh is one of the few countries in South Asia, which remains to be explored. It has a delicate and distinctive attraction of its own to offer - archaeological sites, historical mosques and monuments, resorts, beaches, hill communities, forests, flora and fauna. The country also offers ample opportunities to tourists for angling, rowing, jungle trekking, sun and sea-beaching and above all to be in and amidst the pristine nature. It is a land of rivers covering the whole country with their natural flow. Furthermore, cannels, small hills, springs, tea-gardens and the ancient historical places are the most attractive sights for the tourists. The sea beach of Cox's Bazaar is the largest sea beach of the world. All these tourist sites and spots have been attracting local and foreign tourists since the beginning of their creation.

Enjoy an ideal blend of adventure and exploration with comfort and relaxation visiting its serpentine rivers, crystal clear water lakes surrounded by ever green hills, luxuriant tropical rain forests, beautiful cascades of green tea-gardens, world's largest mangrove forest preserved as World Heritage, home of the Royal Bengal Tiger and the wild-lives, warbling of birds in green trees, wind in the paddy fields, abundance of sunshine, world's longest natural sea beach, relics of ancient Buddhist civilizations and colorful tribal villages.
Bangladesh at a Glance:
| | | |
| --- | --- | --- |
| Location | : | Southern Asia, bordering the Bay of Bengal, between Myanmar & India |
| Area | : | 144,000 sq. km. |
| Terrain | : | Mostly flat alluvial plain; hilly in southeast |
| Climate | : | Tropical; mild winter (Oct-Mar); hot, humid summer (Mar-June); humid, warm rainy monsoon (June-Oct) |
| Capital | : | Dhaka |
| Population | : | 150 million |
| Currency | : | Taka (BDT) |
| Language | : | Bangla (official, also known as Bengali), English |
| Religions | : | Islam 83%, Hindu 16%, other 1% (1998) |

Travel Information:
Passport & Visa
A valid passport is required for all tourists intending to visit Bangladesh. The passport must be valid for at least 6 months beyond the date of expected departure from the country. The most common for touring Bangladesh is a single entry tourist visa, which is valid for up to 3 months. Visas are no longer granted upon arrival. Visas must be obtained from a Bangladeshi Diplomatic Office prior to travel.

Food
Restaurants in Dhaka and Chittagong serve mainly local (Bengali) and other Asian cuisines. Continental food is available at Dhaka's internationally operated hotels. Local food is spicy to American tastes. The main components of local food are boiled rice and fish, or curry of mutton, beef, or chicken. Vegetables and lentils are also popular. A number of restaurants have opened in the last several years that are popular with expatriates.

Money
The circulated currency in Bangladesh is Taka. All foreign currency can be exchanged at the banks of Bangladesh (Banking hours: 09:00 am - 03:00 pm Sun to Thu), hotels, shops and money exchange centers. You can exchange money into Taka according to the exchange rate of that day with your valid passport. Credit cards are also acceptable. Travellers' cheques in US Dollars or Pounds Sterling can be exchanged on arrival at Dhaka Airport.

Seasons
Bangladesh has a tropical monsoon-type climate, with a hot and rainy summer and a dry winter. January is the coolest month with temperatures averaging near 26°C and April the warmest with temperatures from 33°C to 36°C. The climate is one of the wettest in the world. Most places receive more than 1,525 mm of rain a year. Most rains occur during the monsoon (June-Sept) and little in winter (Nov-Feb).

Required Clothing
Lightweight cottons and linens throughout the year, warmer clothes are needed in the evenings during the cool season, waterproofs are necessary during the monsoon season.