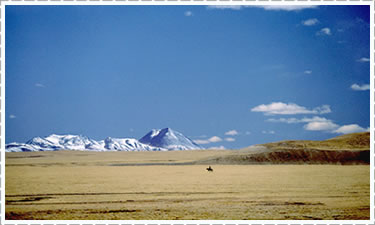 Tibet, one of the world's most extraordinary destinations, has long been enjoyed the reputation of being "The Roof of the World". It is a rich and beautiful land with an average altitude over 4000m above sea level. Possessing more than fifty peaks above 7000m, Tibet is home to eleven Himalayan Mountains over 8000m. There is adventure indeed lurking around almost each and every corner. The capital Lhasa and the route towards northern Nepal still give us the same old Tibetan establishments and traditions. Be it the road of Zhangmu or the monasteries of Shigatse and Gyantse, Tibet has its own culture that is still alive today. The extended great Potala Palace still gives the same Tibetan culture, tradition and beauty as it used to hundreds of years ago. Spiritual traditions, temples and monasteries, lakes and rivers, and mighty snow clad peaks are just a few of the intoxicating wonders to be experienced by adventurous travellers who get the opportunity to visit this Land of Buddhism. Tibetan history, culture and religion are mixed together and infiltrate every aspect of social life. Tibetan religious arts have a distinctive style with adoption of Indian and Chinese Buddhist influence, thus forming a pearl of Oriental Buddhist Art.

Tibet at a Glance:
| | | |
| --- | --- | --- |
| Location | : | Asia, boardering Myanmar, India, Bhutan & Nepal in the south & west |
| Area | : | 1.2m sq. km. (471,700 sq. miles) |
| Terrain | : | 70% Grassland, from high plateau to tropical forest |
| Climate | : | Average temperature 28° C (in summer) – 15° C (in winter); extremely dry except during rainy season (July-Aug) |
| Capital | : | Lhasa |
| Population | : | 2.62 million |
| Currency | : | Chinese Renminbi (RMB) or Yuan |
| Language | : | Tibetan, Chinese |
| Religions | : | Tibetan Buddhism and Animism |

Travel Information:
Passport
A traveller should bring a passport with validity remaining not less than 6 months. Make sure that it has plenty of blank pages for visas, entry and re-entry stamps and extensions. Losing passport in Tibet will cause you a lot of delay as you have to go to Beijing to get a new one.

Visa-Travel Permit
A traveller to Tibet requires to have a special group visa/permit. The visa processing is initiated only after you book a trip with us. Original passport has to be submitted while applying for visa/permit at the Chinese Embassy in Nepal or abroad. We are eligible to process visa/permit in Kathmandu before arrival. Normally, Chinese Embassy in Kathmandu is open every Monday, Wednesday and Friday between 9:30 am to 11:00 am. A Tibet-bound traveller requires to pay visa fee according to varying nationalities.

Food
In Lhasa there are some popular restaurants that provide Tibetan, Chinese and even Western food to the travellers. These restaurants also serve Tibetan tea (salted butter tea), sweet milk tea, hot boiling black tea, Tibetan barley beer, soft drinks, canned beer and imported wine, whisky and local beverage. Very basic food will be served at Zhangmu and Shegar. Guesthouses or hotels on the way will provide a basic accommodation.

Landslide & Extra Charge
Our company will put all its efforts to make your journey smooth and pleasant. However, during the monsoon while crossing the Tibet-Nepal border, it requires extra pay to hire porter and additional transport due to landslides and road blockade.

Money
The circulated currency in Tibet is RMB. Foreign currency can be exchanged at the bank of China in Lhasa and other cities. But, only the main office of the Bank of China accepts traveller's check and cash in advance. You can exchange money into RMB according to the exchange rate of that day with your valid passport. If you want to visit remote areas in Tibet, you are advised to have enough RMB with you. However, you can have some US$ with you, too.

Seasons
Because of its high altitude and climate, Tibet is somewhat cold and the difference between temperature during the day and at night is varying. But, as for its long sunshine time, winter is not too bad. Its annual rainfall is not much with the monsoons occurring between July and September. In spring, autumn and winter it is a bit dry.

Required Clothing
With high altitude and climatic variations of Tibet from region to region, a jacket, a woolen sweater, shirts, pants, a warm pullover, a down jacket, scarves and gloves are highly recommendable.