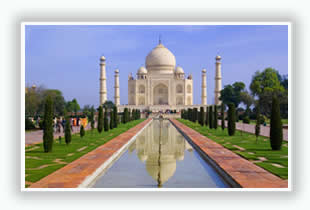 An incredible country that can offer almost anything a traveller wants to explore & experience-whether it be historic palaces, cultural heritage sites, majestic temples & tombs and stunning natural beauty, colorful bazaars, sea beaches, desolate deserts, forested mountains, snow capped peeks, torrential rivers, verdant valleys and even a spiritual search for yourself. However, India has its own glorious culture and tradition of present and past. Travelling to India could be a wonderful experience.

India at a Glance
| | | |
| --- | --- | --- |
| Location | : | Southern Asia, boarding the Arabian Sea & Bay of Bengal, between Myanmar & Pakistan |
| Area | : | 3,287,590 sq. km. |
| Terrain | : | Upland plain (Deccan Plateau) in south, flat to rolling plain along the Ganges, deserts in west, Himalayas in north |
| Climate | : | Varies from tropical monsoon in south to temperate in north |
| Capital | : | New Delhi |
| Population | : | 1,129,866,154 (July 2007 est.) |
| Currency | : | Indian Rupee (INR) |
| Language | : | English, Hindi, Urdu & other regional languages |
| Religions | : | Hindu 80.5%, Islam 13.4%, Christian 2.3%, Sikh 1.9%, other 1.8%, unspecified 0.1% |

Travel Information:
Passport & Visa
Foreigners visiting India must have a valid passport. It takes 3-4 days for visa processing. The visa processing is initiated only after you book a trip with us. Original passport has to be submitted while applying for visa/permit at the Indian Embassy in Nepal or abroad. We are eligible to process visa/permit in Kathmandu before arrival. Normally, Indian Embassy in Kathmandu is open every Monday to Friday between 09:30 am to 11:00 am. Visa fee may vary according to different nationalities.

Food
Food in India is wide ranging in variety, taste and flavour. Being so diverse geographically, each region has its own cuisine and style of preparation. Indian cuisine, renowned for its exotic gravies seems complicated for any newcomer. Besides Indian cuisine, Continental and Chinese food are also available in major cities and towns.

Money
The circulated currency in India is Rupee. Foreign currency can be exchanged at the banks in major cities and towns. All major credit cards and travellersí cheques are accepted with valid passport. But, surcharges for changing travellersí cheques vary from place to place and bank to bank.

Seasons
In a country where topography varies wildly, climatic conditions are only bound to vary wildly too. Classified as a hot tropical country by many, that is a definition that holds true for most, but not all of India. Exceptions include the northern states of Himachal Pradesh and Jammu & Kashmir in the north and Sikkim in the northeastern hills. In most of India summer is very hot (Apr-Oct). The heat peaks in June with temperatures in the northern plains and the west soaring above 46° C. The plains in the north and even the barren countryside of Rajasthan reel under a cold wave every year in December-January. In the northern high altitude areas of Himachal Pradesh, Jammu & Kashmir, Sikkim, and parts of Uttar Pradesh, it snows through the winter and even summer months are only mildly warm. The east receives rain from April to August. September to November is relatively dry and the region only has sporadic showers. There are winter rains in December and January. This abates for two months and then itís time for the monsoon season yet again. The central plateau has similar climate to the north but the mercury does not dip as low in winter. It rains from mid-June to September.

Required Clothing
Lightweight cottons and linens throughout the year; layered clothing is better with a down jacket during the winter season, especially in the northern hills like Darjeeling, Sikkim etc. Waterproofs are necessary during the monsoon season.