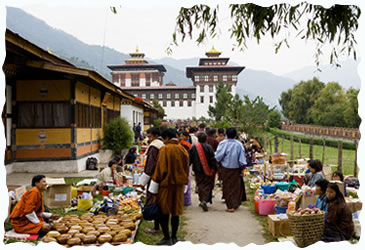 Nestling in the heart of the Himalaya and protected by a complex geography of high mountains and deep valleys, Bhutan, also known as the Land of Thunder Dragon, is certainly one of the most mysterious countries of the world. Hidden amidst the mighty Himalayas and sandwiched between its two great neighbors, with Tibet (China) in the north and India in the south, Bhutan is as big as Switzerland but sparsely inhabited by 672,425 (2005) people. Impenetrable jungle to the daunting ranges of snow-capped mountains in the north have always barred across to the remote valley of the kingdom. Bhutan has still kept its extremely rich cultural heritage, doggedly maintaining its distance from the modern world, proud of its own values and rich traditions. The kingdom is also blessed with a wealth of flora and fauna, self-sufficient and friendly people, superb art and eye-catching architecture, without beggars or crime. In fact, Bhutan is truly a paradise.


Bhutan at a Glance:
| | | |
| --- | --- | --- |
| Location | : | Southern Asia, between China & India |
| Area | : | 47,000 sq. km. |
| Terrain | : | Mostly mountainous with some fertile valleys and savanna |
| Climate | : | Varies; tropical in southern plains; cool winters and hot summers in central valleys; severe winters and cool summers in Himalayas |
| Capital | : | Thimpu |
| Population | : | 672,425 (2005) |
| Currency | : | Ngultrum (BTN); Indian rupee (INR) |
| Language | : | Dzongkha (official), Tibetan, Nepali |
| Religions | : | Lamaistic Buddhist 75%, Hinduism 25% |


Travel Information:
Passport & Visa
All visitors travelling to Bhutan are required to obtain a visa. No foreign mission grants Bhutan tourist visa. The Royal Government of Bhutan issues the visa only after the receipt of full payment in advance. Visa fee needs to be paid along with the tour payment. Bhutan visa is stamped in the passport on arrival at Paro airport. Visa applications must reach Bhutan at least 3 weeks prior to your arrival date to allow time for processing.


Travel in Bhutan
The Royal government of Bhutan has adopted a very cautious approach to the development of tourism in the kingdom in an effort to avoid the negative impacts of tourism on the culture and the environment. All tourists (group or individual) must travel on a pre-planned, prepaid, guided, package tour or custom designed program through a government registered travel company. Independent travel is not permitted in Bhutan.


Food
Bhutanese delicacies are limited. Chinese, Indian and Continental food is available in hotels / restaurants in major towns with some local dishes. On trek, cooks prepare a variety of dishes, ranging from Continental to Chinese and Bhutanese to Indian.


Money
Bhutanese currency is the Ngultrum (BTN), which is equivalent to the Indian Rupee. The Indian rupee is also an accepted legal tender. Major convertible currencies and travellers' cheques can be exchanged at banks in major towns (Banking hours: 10:00 am to 1:00 pm, Mon to Fri) and at the larger hotels. Certain credit cards (Master Card, Visa, & American Express) are accepted at a few large hotels and shops. Rural towns and villages may accept only Ngultrum or rupees.


Seasons
The central valleys of Punakha, Wangdiphodrang, Mongar, Trashigang and Lhunsthi enjoy a semi tropical climate with warm summers and mild winters, while Thimphu, Paro, Tongsa and Bumthang have pleasant summers and very cold winters. The east of Bhutan is generally a little warmer than the west of the country. The southern low-altitude belt is tropical, with hot summers and pleasant winters.


Required Clothing
Due to the wide range of temperature and climatic conditions, it is advisable to bring appropriate clothing for protection against the cold; layered clothing is better with a down jacket. Cloths should preferably be made from natural materials, which allow the body to breathe. You will be offending people if you walk around in skimpy tight fitting or exposing clothes although shorts (not too) are fine.