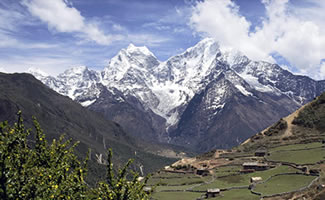 Nepal is the Himalayan Kingdom, with artistic monuments, exotic wildlife, and a unique harmony of diversified cultures. It is one of the richest countries in the world in terms of bio-diversity due to its unique geographical position and altitude variation. The elevation of the country ranges from 70m above sea level to the highest point on earth, Mt. Everest at 8848m, all within a distance of 150 kilometers resulting in climatic conditions from sub-tropical to arctic.


This wild variation fosters an incredible variety of ecosystems, the greatest mountain range on earth, thick tropical jungles teeming with a wealth of wildlife, thundering rivers, forested hills and frozen valleys.


Within this spectacular geography is also one of the richest cultural landscapes anywhere. The country is a potpourri of ethnic groups and sub-groups who speak over 93 languages and dialects. Nepal offers an astonishing diversity of sightseeing attractions and adventure opportunities found nowhere else on earth. And you can join in the numerous annual festivals that are celebrated throughout the year in traditional style highlighting enduring customs and beliefs.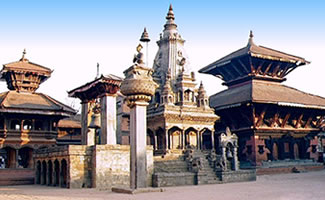 Nepal - popularly known in the world as a hidden Shangri-La of nature, culture and adventure offers incredible string of cultural sites and adventure opportunities to explore and experience. Being rich in bio-diversity and ecosystem, the country has the greatest mountain ranges on earth, thick tropical jungles teeming with a wealth of flora and fauna, thundering rivers, forested hills and frozen valleys. In the countryside the way of life is still traditional, nature is at its best, high mountains and lush valleys are ideal places for trekking and mountaineering, flora and fauna invites a nature lover for a rendezvous with them. Its rich traditions of art and culture preserve the medieval splendor and architectural values.


---
Nepal at a Glance:
Location
Nepal is a landlocked country, situated in South Asia, bordering with the Tibet Autonomous Region of the People's Republic of China in the north and surrounded by India in the east, south and west.
---
Area
147,181 sq. km..

---
Topographical Features
Nepal is a mountainous country with the Himalayan belt in the north, the hilly region and fertile valleys in the middle and the narrow strip of plain Terai in the south, all running parallel to each other from east to west.
---
Capital
Kathmandu
---
Population
The total size of the population is 28,901,790 (2007 est.), out of which 48.64% are male and 51.36% are female, with an average annual growth rate of 2.132%. The life expectancy at birth is 60.56 years and the literacy rate is 48.6% (2001 census).
---
Language
Nepal is a multi-ethnic and multi-lingual society characterized by tolerance and harmony. Nepali is the official language as well as the main language of communication. However, English is widely spoken in the capital, other urban cities and other tourist areas.
---
Religions
Hinduism : 80.6%
Buddhism : 10.7%
Muslim : 4.2%
Kirant : 3.6%
Others : 0.9%
---
Season Times
Nepal has four major seasons:
(1) Winter : December-February
(2) Spring : March-May
(3) Summer : June-August
(4) Autumn : September-November
---
Climate
The weather in Nepal varies from cool summers and severe winters in north to sub-tropical summers and mild winters in south. The capital, Kathmandu reaches below 1° Celsius (34° F) during the winter and rises to an average 32° Celsius (90° F) during the summer. The temperature during the winter also rises 15° to 20° Celsius during the day. The Terai region has temperature some what equivalent to that of Delhi / India where temperature can reach up to 44° Celsius (111° F) during the summer season.
---
Political System
Nepal has Constitutional Monarchy and Parliamentary Democracy. The country has independent judiciary and free Press.
---
Administrative Divisions
The country is divided into 5 development regions, 14 zones and 75 administrative districts.
---
Calendar
Nepali calendar, which is based on Bikram Era or Bikram Sambat, commences from Baishakh every year (mid-April of the Gregorian calendar).
---
Fiscal Year
Nepali Fiscal Year is from 16 July to 15 July.
---
Office Hours
The normal workweek is five and a half days from Sunday till Friday. The office hours for the civil service, banks and business organizations is from 10:00 am to 5:00 pm (in winter from 10:00 am to 4:00 pm). The office hours in Kathmandu Valley is from 9:00 am to 5:00 pm from Sunday to Friday.

---
Standard Time
5 hrs 45 minutes ahead of GMT.


---
Currency Units and Exchange Rates
Nepali Rupee (NRs) is the legal tender. It has a fixed exchange rat vis-à-vis Indian Rupee while its exchange rate with other convertible currencies is determined by the floating exchange rate principle.

---
World Heritage Sites (Culture)
Kathmandu Durbar Square
Patan Durbar Square
Bhaktapur Durbar Square
Swayambhunath
Bouddhanath Stupa
Pashupatinath
Changunarayan
Lumbini (Birthplace of Lord Buddha)
Sagarmatha National Park (1,148 sq. km.)
Chitwan National Park (932 sq. km.)